When oral mucositis occurs
Oral mucositis (OM) is the inflammation of the tissue lining the inside of the mouh (called the oral mucosa). It is thought that mucositis occurs as a result of the direct damage of DNA in the cells of the epithelium that can cause cells to die.
When someone has oral mucositis, he or she experiences a thinning of the oral mucosa (atrophy), damage in vascular tissues especially the blood vessels, and increased concentration of inflammatory cells. As soon as oral mucositis starts, the patient will experience pain (due to ulcer formation and thinning of the mucosa), difficulties in chewing and swallowing, as well as dry mouth. This disease can seriously affect the patient's quality of life both, short and long-term.
An unfortunate side effect
Oral mucositis is one of the more common side effects of cancer therapy. Radiation is the main cause of oral mucositis, and cytotoxic drugs (such as those used in chemotherapy) can also be a factor. The likelihood of developing oral mucositis increases if the patient has poor oral health, smokes or drinks alcohol and suffers from infections.
Treatment
          There is no widely acceptable specific guideline or gold standard for the treatment of oral mucositis to date. However, there are plenty of options that can be used.
          The primary symptom of oral mucositis is pain. This pain significantly affects nutritional intake, mouth care and quality of life. Many centers use saline mouth rinses and topical mouthrinses containing an anesthetic such as 2% viscous lidocaine (Xylocaine). The lidocaine may be mixed with equal volumes of diphenhydramine and a soothing covering agent such as Magnesium Trisilicate Mixture in equal volumes. Such combination is named "Magic Mouthwash.  Such topical anesthetic agents may provide short-term relief. 
Apart from the magic mouthwash, several mouthwashes containing different properties have been used such as benzydamine (Difflam Gargle) (contains anti-inflammatory properties), and chlorhexidine (antimicrobial). It is important to note that mouthwashes should not contain alcohol because it will make it worst. No single formulation has been proven superior to the others.
Magic Mouthwash: Magnesium Trisilicate+Xylocaine+Diphenhydramine
Function:
Magnesium Trisilicate:  To coat the mucous membrane of your mouth.
Xylocaine (Lidocaine): To relieve pain.
Diphenhydramine: To reduce swelling.
Directions of Use:
Mix 5ml of each solution in one measuring cup.
Hold the mixtures in your mouth and gently swish it around for a minute or two.
Spit out the mixtures. Swallowing it may cause side effects such as an upset stomach.
Avoid eating or drinking anything for at least 30 minutes after taking magic mouthwash. This helps the medicine stay in the mouth long enough to work its effects.
Chlorhexidine Mouthwash 0.2%
Function: It can kill bacteria in your mouth.
Directions of Use:
Pour out 10ml of the mouthwash in the measuring cap.
Rinse your mouth with mouthwash twice daily after brushing your teeth.
Swish the medicine in your mouth for at least 30 seconds, then spit it out.
Do not swallow the mouthwash. Do not rinse your mouth with water or other mouthwashes right after using this mouthwash.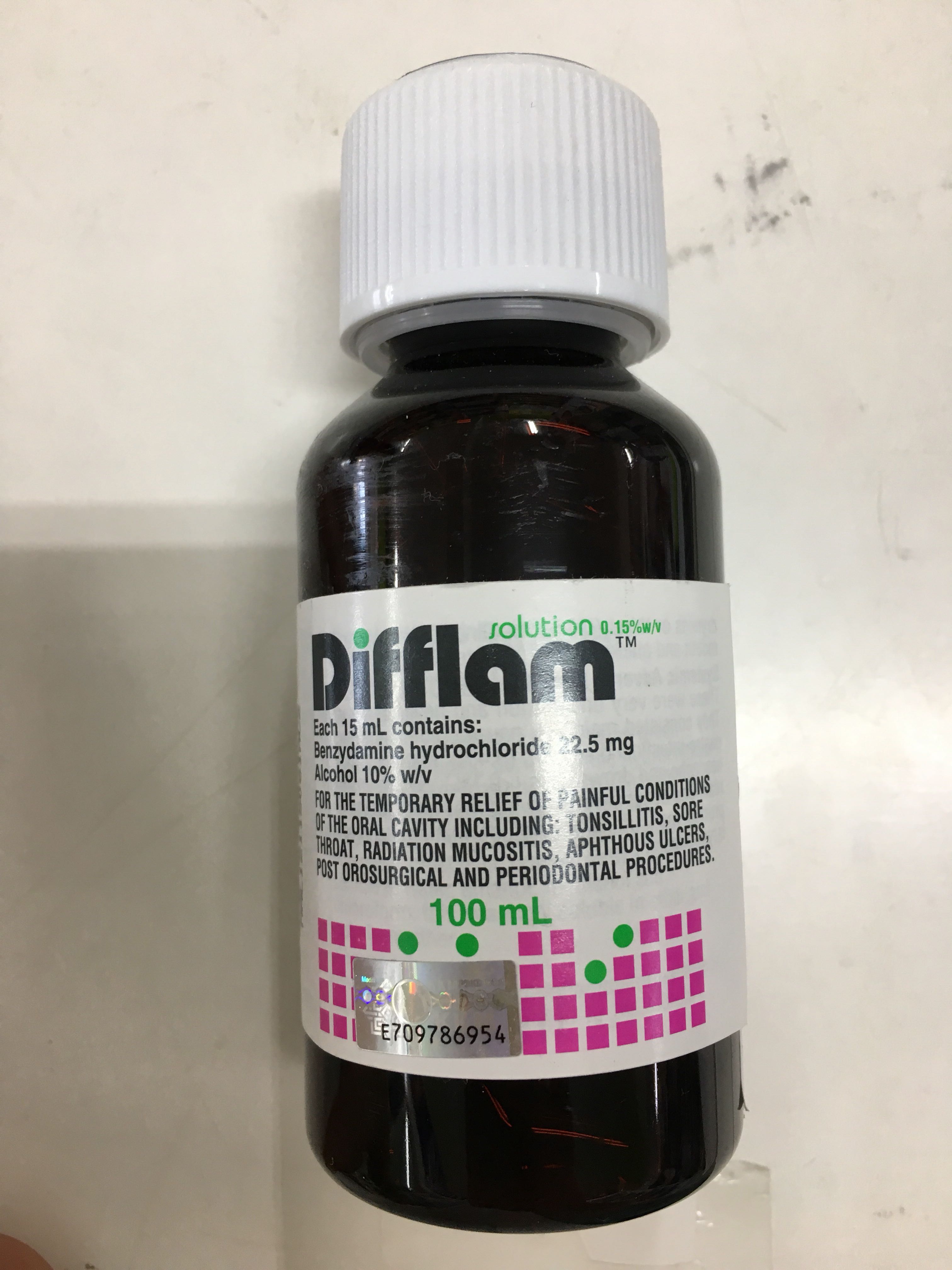 Difflam Gargle (Benzydamine)
Function: It can help to relieve pain and inflammation in the mouth, gums or throat.
Direction of use:
Use 15ml (Approximately 1 tablespoonful) to rinse the mouth three times a day or as needed to relieve pain.
Swish it in your mouth for 30 seconds. Do not swallow the gargle.
Spit the rinse out after use, don't swallow it (although accidental swallowing is unlikely to cause harm).
Don't use Difflam oral rinse for more than seven days, unless otherwise advised by your doctor.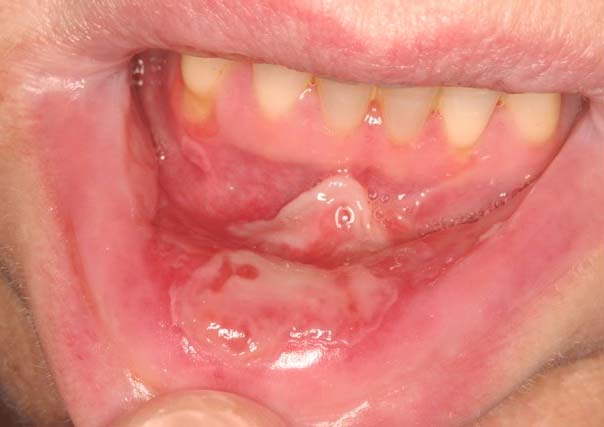 How To Prevent Oral Mucositis
1) Oral Hygiene:
Good oral hygiene is the best preventive measure.
Patients who will undergo chemotherapy or radiotherapy should be thoroughly screened by a dentist. It is essential to detect any preexisting problems such as gingival infection, dental disease, or any structurally damaged teeth.
2)Diet
Choose high protein, high calorie foods and fluids.
Cheese, milk, meat, eggs, beans, Greek yogurt, puddings and ice cream
Choose soft or blended foods if you are having pain or trouble chewing or swallowing regular foods.
Cream soups, stews, casseroles, pasta, scrambled eggs and mashed potatoes
Add sauces, gravies, oils or butter to moisten food.
Avoid acidic foods and fluids like tomatoes, and orange or grapefruit juice.
Avoid dry, hard, crusty foods like toast, nuts, chips, and raw fruits and vegetables.
Eat many small meals or snacks during the day when eating becomes more difficult.
Take nutrition supplements and/or smoothies or milkshakes.
Aim to drink 8 cups of non-carbonated fluid daily (alcohol and caffeine free).
Take small bites of food and sips of fluid often to keep your swallowing working.
Talk to your healthcare professional if your mouth or throat may feel like it is on fire when you swallow.
3) Flossing and Brushing
Floss at least once daily if you are able.
Use a soft toothbrush with a fluoride toothpaste twice daily to avoid tooth decay
Gently brush after meals and before bed.
To clear your mouth, use a clean moist gauze or foam swab soaked in mouth rinse.
Rinse, swish and spit rinse several times after brushing, flossing and eating.
Rinse every 1-2 hours while you are awake.
For thick mucus, use mouth rinse more often and sip water.
4) Oral Moisturizing:
Moisturize nasal passages through the night with a steam vapourizer in your room.
Moisturize with mouth rinse and water-based lubricants more often.
Use water-soluble, wax-based, or oil-based lubricants often.
5) Denture Care:
Keep your dentures out as much as possible.
Remove dentures, plates and prostheses before brushing.
Brush and rinse dentures after meals and before bed.
Soak dentures in cleansing solution for at least 8 hours.
If you are on antifungal therapy, soak in anti-fungal solution.
Patients undergoing cancer therapy may also develop transient or permanent xerostomia (subjective symptom of dryness) and hyposalivation (objective reduction in salivary flow). Hyposalivation can further aggravate inflamed tissues, increase risk for local infection and make the process of      chewing food difficult. Many patients also complain of a thickening of salivary secretions due a decrease in the serous component of saliva. The following measures can be taken for palliation of a dry mouth:
Sip water as needed to alleviate mouth dryness. Several supportive products including artificial saliva are available.
Chew sugarless gum to stimulate salivary flow.
Rinse mouth with mouth bland recipe as shown bellow:
References:
Emily R. Holt, Taylor Potts, Rachel Toon, Melinda Yoder. (2015). The Journal for Nurse Practitioners; 11 (2): 253–257
Shu-Ching Chena, Yeur-Hur Laib, Bing-Shen Huang, Chien-Yu Linc, Kang-Hsing Fanc, Joseph Tung-Chien Chang. (2015). European Journal of Oncology Nursing. 19(3): 214–219.
A.Rodrı´guez-Caballero, D. Torres-Lagares, M. Robles-Garcı´a, J. Pach ´n-Iba´n˜ez, D. Gonza´lez-Padilla, J. L. Gutie´rrez-Pe´rez. (2012). Cancer treatment-induced oral mucositis: a critical review. Int. J. Oral Maxillofac. Surg. 41: 225–238.
How to Care for Your Mouth During Active Chemotherapy 2014,  Northeast Cancer Centre, Sudbury Ontario, Accessed 21 October 2019, <https://www.mascc.org/assets/oralcare /en_head_neck_activechemo>.